Many of our communities have received feedback that texting is one of the preferred methods of contact. We heard you! One of the ways we text is through RentCafe texting. To opt in, you can log in to resident account on a browser OR you can use the DTN Management App to opt in.

ON THE DTN MANAGEMENT APP
Sign in to the app on your mobile device
Click the three bars in the upper left corner to get to the Menu
Click on Settings to expand the menu and select Personal Info
Select "Edit" from the upper right hand corner
Add your mobile number
Click the slider to activate "Allow Text (SMS) Notifications"
Click "Save" in the upper right hand corner

PLEASE NOTE:
We recommend the DTN Management App for the best digital experience. If you have a resident portal already set up, all you have to do is download the app and log in. The App allow you to save your login, make payments, enter maintenance requests and so much more with a few clicks. There also are features available in the app that are not found in resident portal.


---
ON RESIDENT ACCOUNT (In a browser)
Log in to your resident portal account here.
Not registered? Visit our tips, tricks and troubleshooting for resident portal at www.dtnmgt.com/portal
OPTION 1 IN RESIDENT ACCOUNT
On your home screen there is a box to opt in for SMS alerts.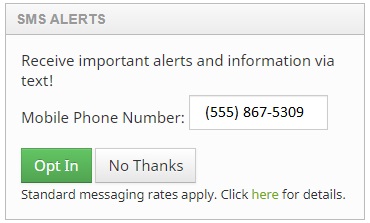 OPTION 2 IN RESIDENT ACCOUNT
Once logged in, click on the icon to edit your Profile. This is located in the upper right hand corner
Select the icon to "Edit profile"
Once you are under "My Profile" - check the box to allow Text (SMS) Notifications and enter your Mobile Phone for Texts (SMS)

The last step is to select Update Profile, which is located at the bottom of your "My Profile"
---


OPT OUT
To opt out of text messages after you've opted in, Text STOP to 85938